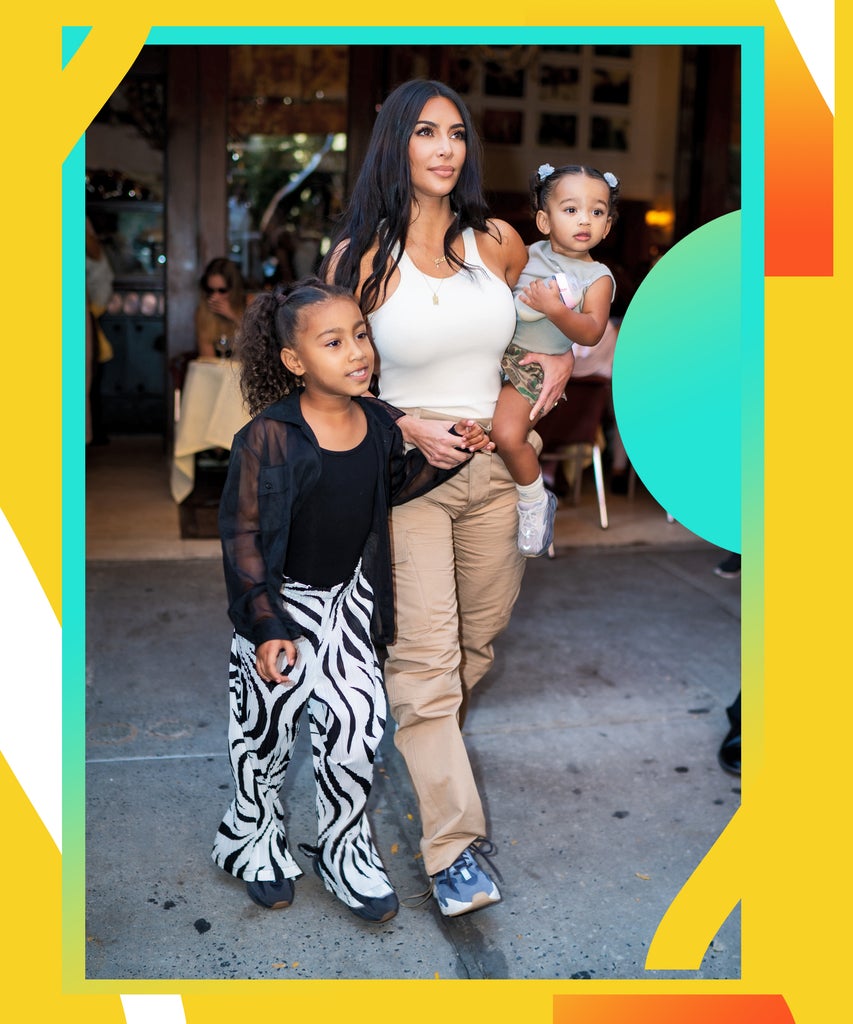 Kim Kardashian West has spoken before about her experience having her two youngest children via surrogate. In a 2017 interview, she called the process "so much harder," in part because of the loss of control.
Now, in an interview on the podcast All's Fair With Laura Wasser, the businesswoman and reality star is sharing one tool she used to deal with her feelings about surrogacy. The first time Kardashian went through the process — to have her child Chicago, who is now 2 — she used a "surrogate therapist," reports E! News, who received an exclusive first listen of the episode, which airs February 11.
"You get your surrogate attorney, you get your surrogate broker," Kardashian explains. "Then the broker recommended that we use a therapist that would communicate with me first and then communicate with [our surrogate] and kind of be our liaison."
"[The therapist] would suggest, 'Hey, I think you guys should communicate once a week through text, maybe on Mother's Day. She's a mother as well. Maybe get her a massage or something that's appropriate for her to pamper [her],'" Kardashian says, adding: "Towards the end we got close enough where we could communicate really without that."
Kardashian and her husband also used the therapist to make sure everyone was on the same page with the birthing plan. "If anything was uncomfortable, she would be that buffer to say, 'This is who I want in the room. What are you comfortable with? How does this work?'" she explains.
The couple didn't use a surrogate therapist for their fourth child, 8-month-old Psalm — who was also delivered via surrogate — because Kardashian "knew the drill" by then, she say.s
Fertility counselors, similar to what Kardashian used, work with parents and gestational carriers to provide "valuable and thoughtful guidance, education, and assistance in clarifying and exploring roles, expectations, and potential outcomes for all parties involved," according to the website of Resolve, the National Infertility Association. These counselors can provide ongoing support to the intended parents and surrogates as they move through fertility treatments, pregnancy, and through postpartum care.
In the 2017 interview with Entertainment Tonight, Kardashian said that though she'd disliked being pregnant, the surrogacy process was difficult too. "I think it is definitely a different experience and I am blessed that I am able to do this, and technology is the way that it is that we can do this," Kardashian said. "But it is still a process that you need to digest."
Like what you see? How about some more R29 goodness, right here?
Elizabeth Banks Feels Judged For How She Had Kids
Kim Kardashian's Surrogate Is In Labor
Kim Kardashian Puts Sea Moss In Her Smoothies
from Refinery29 https://ift.tt/39dDED2
via
IFTTT